Equal opportunity for everyone and a life together without discrimination are the core values at FH Campus Wien.
Since November 2014, there have been two network groups at FH Campus Wien for employees, teachers and students of different sexual orientations, identities and lifestyles, which contribute to the creation of internal platforms for exchange, information and support.
Promote exchange and information
Promote visibility and acceptance
Be a point of contact
Organize events
Establish contacts/networking
Point out discrimination
Offer support
Regular meetings
"Become more"
People of different sexual orientations, gender identities and life plans
Supporters and friends whose concern is an open and appreciative organizational culture at FH Campus Wien are welcome!
Participation is possible at any time!
queer staff. LGBTIQ * network group of employees and teachers
LGBTIQ*–Networking group of FH-students
Contact, registration for the meetings and information
Paulin Vivi Hohmann, BA
Gender & Diversity Management
regenbogengruppe@fh-campuswien.ac.at
Restrooms and showers for all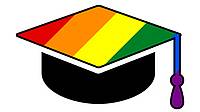 Together with LGBTIQ * groups and queer representatives from the ÖH of numerous universities in Vienna, we have set up the university network queer @ hochschulen. The LGBTIQ * coordinators at the universities are in constant contact with each other, exchange ideas, organize joint participation in the Rainbow Parade in Vienna, etc.
More Info: queer@hochschulen
meritus: Lesbian Gay Award
In October 2015, FH Campus Wien was awarded the meritus in the category "Large organizations with over 250 employees". Queer Business Women and agpro - austrian gay professionals award this prize every two years to companies and organizations that are particularly committed to the diversity dimension of sexual orientation.
More Infos: Website meritus