In 2008, FH Campus Wien was the first university in Austria to start a degree program for health care and nursing. What was the main reason for the academization of the education and training?
Raising the education and training in Austria to the tertiary sector was a long-standing demand of professionals and long overdue. At that time, there were already 23 European countries with a Bachelor's degree program in the discipline of health care and nursing. We also wanted to establish this European education standard in Austria.
Graduates in health care and nursing were already able to acquire an academic degree.
Yes that's right. Since 1999, the University of Vienna had offered an individual degree program in nursing science, which was completed by members of the vocational school with a secondary school leaving certificate. Thus, a considerable group of health and nursing staff were already being academized between 1999 and 2008. However, this resulted in a surplus of graduates without a professional qualification.
Why start a Bachelor's Degree Program in Health Care and Nursing at FH Campus Wien?
At that time, it was a forward-looking, policy-driven decision. In the course of the Bologna process, i.e. the Europe-wide conversion to the three-part Bachelor-Master-PhD degree system, the degree program in Nursing Science was transformed into a Master's degree and the highly practice-oriented education training in health care and nursing was established as a degree program including a professional qualification at our University of Applied Sciences. Incidentally, at that time we developed the degree programs together with the University of Vienna and the Institute for Nursing Science, with whom we continue to work closely together in our teaching today.
For years, FH Campus Wien has played a leading role in the academization of health professions in Austria. What exactly distinguishes today's health care and nursing professionals from the nurses of the past?
The job description and the range of responsibilities have become much wider. The technical and methodological competencies have changed and are more research-based. Scientific competencies have been added and more focus is placed on self-competence. The focus has shifted to multi-professional cooperation. In addition, health care and nursing professionals today increasingly adopt medical agendas in diagnostics and therapy that used to be reserved for physicians. And it's not just about illness anymore, it is also about health.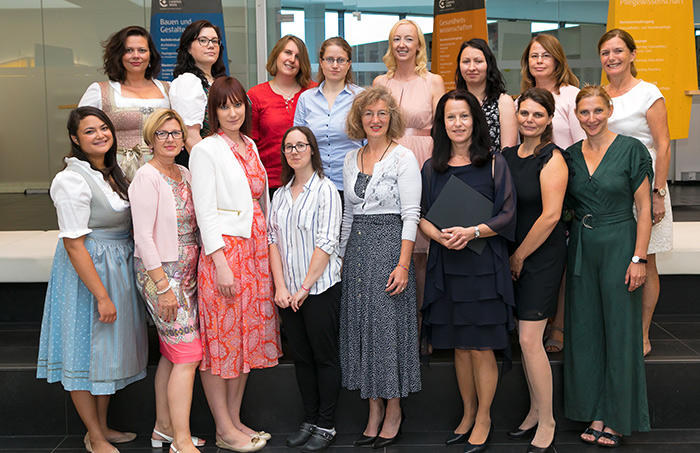 How do you manage to meet these health care and nursing requirements in education?
Through research-led teaching and the enrichment of the practical experience with evidence-based nursing knowledge. We impart our students with technical-methodical, scientific, social and communication skills. They spend approximately half of their time in the degree program in internships, where they have to apply their in-depth theoretical knowledge in practice on the basis of job-specific problems. In terms of content, they are trained in both illness and health.
The Bachelor's Degree Program Health Care and Nursing is very well received by interested parties. In cooperation with your training partners, you now offer 580 first-year study places per year. How many graduates have successfully completed the Bachelor's degree program?
Currently there are around 1.052 graduates. However, if you also count the three Master's courses that build upon each other, there are already well over 1,300 graduates.
The overwhelming majority of your graduates work in direct nursing care in upper grade health care and nursing. What challenges will they face in the future?
The institutional sector will be smaller and the mobile extramural will have to get bigger. Prevention and health counseling will become more important and professional care will need to be more involved. In a society where people live longer while also struggling with poor health performance, more counseling and support will be required for maintaining good health in the future. Incidentally, in 2022 we will start two new academic degree programs at FH Campus Wien: Public Health and Primary Health Care and Nursing.
You might also be interested in