For students, one thing is clear: those who have practical experience in addition to their degree are ahead of the game. Good contacts to get the most interesting jobs are worth gold. The Department Building and Design uses its network for the students and has developed numerous funding programs for bachelor's and master's students with big players in the construction industry such as STRABAG SE, PORR Group and ÖBB-Infrastruktur AG.
Getting an internship or a subject-specific part-time job while studying is not that easy. As experts from the field, Doris Link, Head of Department Building and Design and Head of Master's Degree Program Civil Engineering and Construction Management as well as Head of Bachelor's Degree Program, Claudia Link, know only too well how valuable it is to apply the specialist knowledge from the classroom in practice. They use their good industry network and implement funding and scholarship programs for bachelor's and master's students with leading Austrian construction companies. "It's a win-win situation," says Doris Link. "Our best students benefit from the funding and the construction companies find young talent."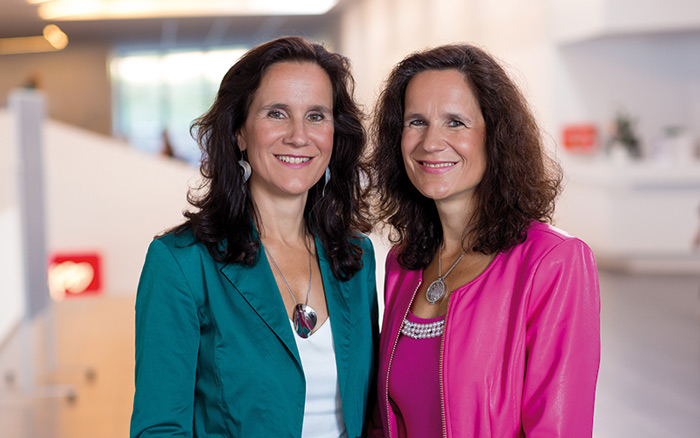 STRABAG SE has been one of the cooperation partners for many years, and in 2018 the STRABAG scholarship program for prospective civil engineers was launched. The scholarship holders receive financial support and STRABAG SE also takes care of the tuition fees. At the heart of the scholarship is the chance for a part-time job and the prospect of direct employment after graduation. These jobs are rare and in great demand. A good grade point average during the bachelor's degree program puts applicants in a strong starting position.
Full commitment in the STRABAG scholarship program
Shortly after the bachelor's examination, it was time to show what they had in the individual and team tasks in an assessment center. Seven students started their master's degree in autumn 2019 with a scholarship in their pockets. "We are very happy about the excellent cooperation, because with the scholarship program, STRABAG SE finances five additional study places in the master's degree program every year," says Doris Link.
Laying the foundation for careers very early on
New, attractive funding programs have also been created for bachelor's students. "In the infra:mentor:ing program from ÖBB-Infrastruktur AG, ÖBB INFRA experts support our students from the third semester to graduation, including with their bachelor's thesis," explains Claudia Link. The students get to know different job profiles, network with future employers already during their studies and gain exciting experience during their internship at ÖBB.
The career lift to the top
The scholarship program from the PORR Group offers support from the final year of the bachelor's degree up to the completion of the master's degree. The scholarship holders are selected from a pool of full-time students who have completed their compulsory internship at PORR and who have displayed above-average performance. FFinancial support and a job guarantee during and after your studies are decisive advantages for training at FH Campus Wien and for a future career," explains a convinced Doris Link.
You might also be interested in