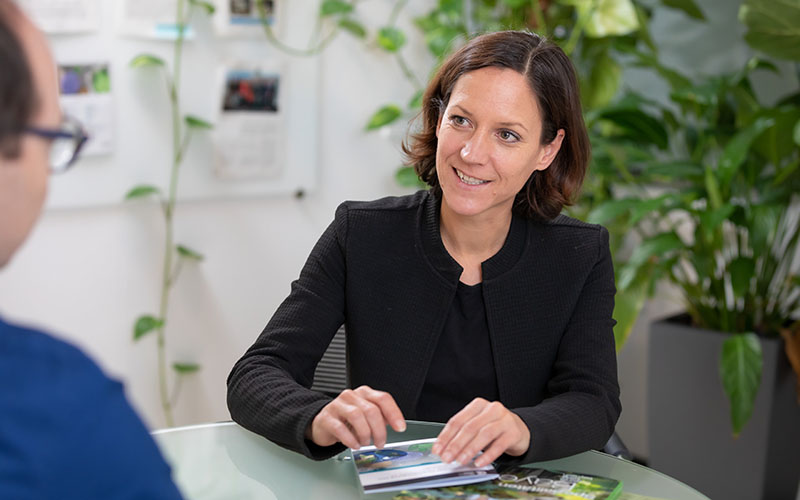 Sustainability, how do you define this term?
Here, it is important to me that not only the ecological, but also the economic and social dimensions are taken into account. The consumption of resources must be controlled in such a way that the needs are also met for future generations.
You have a doctorate in food and biotechnology, which foods are packaged in an exemplary manner, which ones have an urgent need for improvement?
The production of food is very energy and resource intensive. When it comes to packaging, product protection must clearly come first in order to counteract a waste of resources. In many cases, it is difficult to reduce the amount of packaging used, because reduced protection can lead to product damage. For me, good packaging examples are composite beverage cartons, for example for milk. Products that I would pack differently can mainly be found in the praline sector.
Together with FH Burgenland and FH Wiener Neustadt, you offer a curriculum on the topic of circular economy, which was awarded third place at the Austrian Sustainability Award last year, what is it about?
The aim of this course is to strengthen and promote technical, methodological and social sustainability skills, especially with regard to the principles of circular economy. To achieve this, students from different fields of study and universities of applied sciences work together in an interdisciplinary team on issues that come directly from the industry. Last year, for example, it was about recyclable to-go packaging.
With the Internationalization Project Packaging Technology Goes International, which is funded by the City of Vienna - MA 23, you have also introduced new teaching standards, especially in the Bachelor's Degree Program Packaging Technology. Which ones?
One goal of PAINT was to familiarize students in all the technical courses with the most important technical terms right from the start using English-language materials. Since the Bachelor's Degree Program Packaging Technology is offered part-time and the students find it difficult to spend a semester abroad, it was important for us to enable the acquisition of international and intercultural skills at the home university. This has been achieved through the introduction of COIL (Collaborative Online International Learning) activities. At the same time, we expanded our partner network in Europe and the USA, signed five cooperation agreements and prepared many more.
Why is internationalization so essential in the packaging sector?
First, almost all of the larger companies in the packaging sector operate internationally. Second, the major challenges, such as the implementation of the circular economy package, can only be mastered in a global context. Third, packaging may be developed and produced in-house, but in many cases it is further processed, used and consumed in other parts of the world.
You recently took over as Head of Degree Program Sustainable Management of Resources, which combines natural science, ecology and economics, what perspective do you promote with the program?
Graduates of this bachelor's degree are generalists who consider the entire life cycle of products and processes and who are able to link ecological with economic requirements in a company. They have in-depth technical and scientific knowledge as well as economic and legal knowledge. This is necessary because ecological innovations also have to be economically competitive and have to comply with the ever stricter environmental legislation.
Which professional challenges will be the top priority in the packaging industry in the future?
The demands of the EU's circular economy package and the quotas it contains place high demands on the circularity of resources. A shift in thinking is taking place here that is having a major impact on packaging design. We must succeed in minimizing the climate impact of product packaging systems while still preserving the actual function of packaging, namely the protection of the contents. I think that, on the one hand, by training packaging experts and resource managers, and on the other hand, through our research, we can make a significant contribution to the goals of the circular economy package.
You might also be interested in
Degree programs in the section Packaging and Resource Management: