More than 650 muscles, over 200 bones and a huge network of nerves and blood vessels: In health professions, anatomy belongs to essential basic medical knowledge. The virtual dissection table "Anatomage" enables students in the Department Health Sciences to interactively explore the anatomy of the human body using life-size 3D models.
Layer by layer
Cutting, removing, turning: Work on the touchscreen is similar to that on the real dissection table. Tissue, arteries and organs can be examined in any section right down to the bone, in the truest sense of the word. In addition to a database with over 1,000 pathological cases to practice with, biomedical science students can import laboratory results. Budding radiology technologists also have the option to add CTs, MRIs and ultrasound images. In this way, students not only deepen their knowledge of anatomy, but also combine it with their own data from practical courses.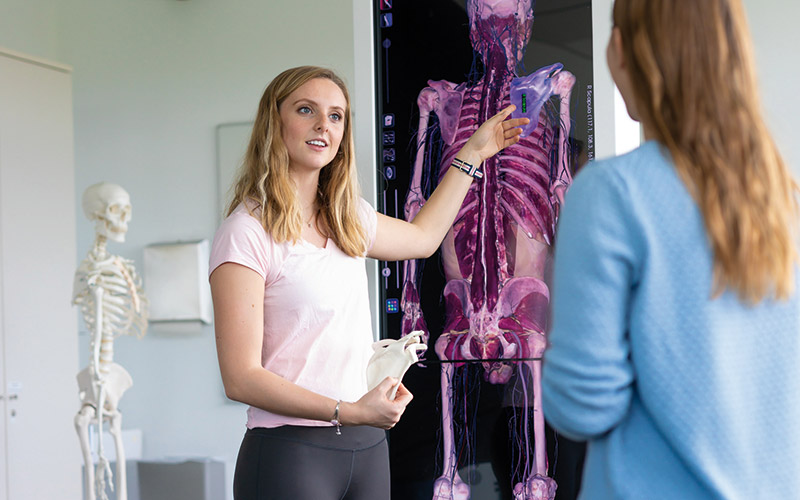 State-of-the-art equipment for future health professionals
"The virtual dissection table supplements the department's basic courses on anatomy with the most modern technical equipment," says Silvia Mériaux-Kratochvila, Head of Department Health Sciences and Head of the Bachelor's Degree Program Physiotherapy. "The dissection table is not only available to students in class, but also when studying independently and for repeating what they have learned." In this way, the students learn to recognize anatomical relationships for diagnosis and treatment planning and are thus optimally prepared for their activities in the healthcare sector.