The laptop is running, the mat is rolled out, only the therapist is missing. From voice or language exercises with speech therapists to physiotherapy or occupational therapy in your own four walls: Telerehabilitation should have a permanent place in Austria as a form of therapy. But what about acceptance and feasibility?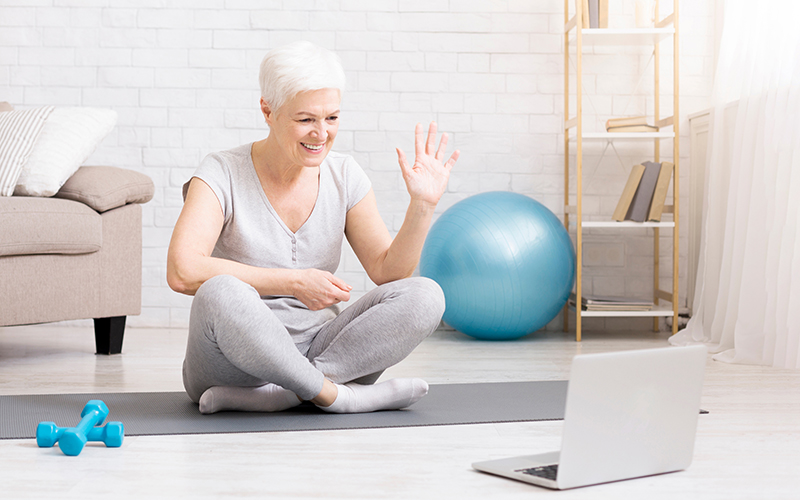 Therapy in the living room
Up till now, patients have received their home exercises orally or in writing. The legal recognition of telerehabilitation as a therapeutic measure now enables individual care via video conference. The digital offer is not only location-independent, but also opens up new possibilities in aftercare. The personal motivation and support increase the frequency of training as well as the effectiveness and results of the therapy.
How are you doing?
"The pandemic has had a positive impact on the attitude of Austrian therapists towards telemedicine. Almost half of the respondents in our study have already used it," says Lena Rettinger, lecturer and researcher in the Master's Degree Program Health Assisting Engineering. She and her team examined acceptance, opinions and experiences with online consultations from practicing therapists. The interest in teletherapy and the assessment of one's own abilities to carry it out is high. However, the study participants point out that a stable reimbursement policy on the part of the health insurance companies and secure software solutions with guaranteed data security are necessary.
Do you have any more questions?
Not all therapy concepts are suitable for teletherapy. There are successful examples from physiotherapy and occupational therapy, for example for chronic pain, after orthopedic operations or to promote independence in everyday life. To make it easier to get started with digital therapeutic work, the researchers developed a Guideline for Therapists. This supports the preparation, implementation and virtual communication. In addition, the Campus Wien Academy offers a certificate program for physiotherapists, occupational therapists and speech therapists in order to integrate telerehabilitation solutions into their therapeutic practice.
You might also be interested in